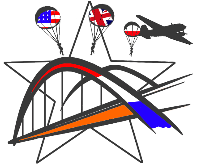 © WW2 Market Garden - all rights reserved - disclaimer
Sgt. Charles Burghduff
505th Parachute Infantry Regiment - 82nd Airborne Division
Charles Leroy 'Chuck' Burghduff was born on 10 september 1920 in Spokane, Washington. Son of Leroy Merle Burghduff (23 years old) and Marilie B. Southard (21 years old). On June 6 1923 Charles' father was killed in an accident when he fell from a moving railwagon. Charles and his mother went to live with his grandmother Clara who ran a boardinghouse in Spokane. Marly remarried two more times but those men didn't stay long in Charles' life.

His uncle George McCormick and niece Shirley also lived with Clara in the boardinghouse. George became a fatherfigure and Shirley was like a little sister. George was a professional boxer and taught Charles how to box. Charles would compete in boxing matches at North Central High School to make money. Charles was a boy scout, he ran track in high school and belonged to the lettermans club, along with a good friend Frank Hammond. Another friend, Grendell Hawes would double date with Charles in a 1939 Buick that belonged to Charles' mother.

In 1942, all three would join different branches of the military and Charles' friends wouldn't return until the war was over and receive word that Charles, like many others, did not make it home.

Charles was a general office clerk before joining the Army on March 3 1942. He then went to Camp Roberts in California to train as a parachutist. He married Phyllis Hall on July 2 1942 in Nevada. On July 6 1942 the 505th Parachute Infantry Regiment was activated under the Airborne Command at Fort Bragg, North Carolina. By February 1943, Charles was stationed in Fort Benning, Georgia, and his wife Phyllis moved back to Spokane.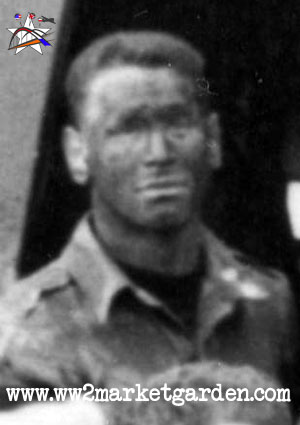 On July 9 1943, the 505 PIR made its first combat parachute jump against the Germans and Italians in Sicily, under command of Colonel James Gavin. Charles was also in the invasion of Italy and made his second jump where two regiments of the 82nd Airborne Division were oredered to seize and hold crossings over the Volturno River.

Charles joined the original pathfinder's school at Conise, Sicily and met Robert (Bob) Murphy, and they became good friends. The pathfinders were a specialty group of paratroopers who would land ahead of time, mark the drop zones and set up radio beacons to guide the aircrafts carrying the main force of soldiers. After Charles and Bob completed their training in Italy, they went to Ireland and then England in early 1944.

As part of the 505 PIR, Charles and Bob jumped as pathfinders in the "D-Day" invasion in Normandy, France against on June 6 1944. Charles was one of the patrols picked to gather intelligence regarding troop dispositions. Charles was able to speak fluent German. They landed about a quarter after midnight on the sixth of June. They landed west of Sainte-Mère-Eglise and would later fight for La Fiere bridge and causeway over the river Merderet.

Charles would earn a bronze star medal for his pathfinder duty and a silver star medal for actions on the July 6. The citation reads that Charles attacked a strong enemy force dug in at a roadblock. He called for the enemy to surrender but he received bullets and grenades as an answer. He ignored the enemy fire and attacked them killing twenty-three enemies and left three captive. He continued his attack down the road to neutralize the rear guard with hand grenades.

On the September 17 Charles made his 4th combat jump during operation Market Garden at Groesbeek. After a couple days of fighting A company was send to Mook to support B company 505 PIR which was running low on ammunition. While walking down a hill into the town of Mook, next to his friend Bob Murphy they were ambushed. Lieutenant Mike Chester, Bob and Charles were on the left side of the causeway. Lieutenant Chester said "Ok guys, let's go." Bob turned to say something to Charles and at just that moment Charles was hit in the side of his body by machinegun fire and was killed instantly. Charles died in Mook on September 21.

The Americans erected two war cemeteries during Operation Market Garden, one in Son and one in Molenhoek. Charles was buried on Molenhoek cemetery, close to Mook where he died, in plot A, row 4, grave 70. He was reburied at Margraten cemetery in 1948 at plot P, row 6, grave 12 and rests there until this day.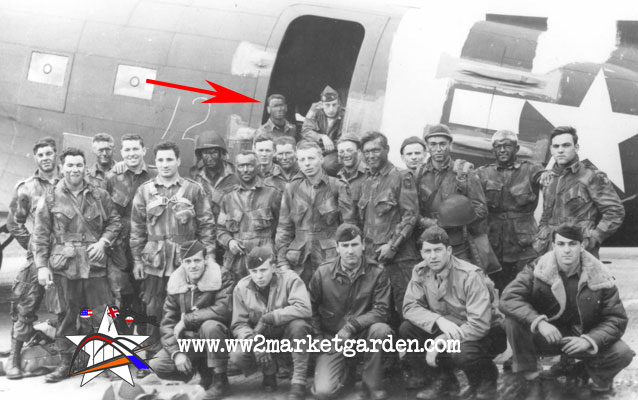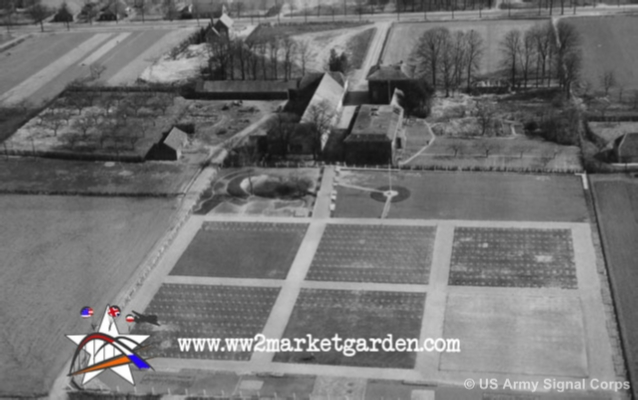 Photo: Pathfinders for the D-day mission for the 505th Parachute Infantry Regiment, 82nd Airborne Division. Charles Burghduff is pictured in the door of the plane.
Photo: Molenhoek war cemetery where Charles was buried until his reburial at Margraten in 1948.