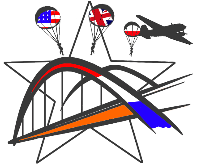 © WW2 Market Garden - all rights reserved - disclaimer
Pfc. William A. Nesbit
502nd Parachute Infantry Regiment - 101st Airborne Division
William Alfred Nesbit was born June 9, 1925 in Sykesville, Pennsylvania. He was the son of William and Elizabeth (Young) Nesbit. He attended the Sykesville Schools and was a member of the Bethel Baptist Church. He grew up with two brothers (older brother Jack and younger brother Jimmy) and two sisters (Martha and Florence).

Prior to his enlistment, he was employed at the Baltimore and Ohio Railroad carshops in Dubois, Pennsylvania. William "Bill" enlisted on June 26th, 1943 shortly after his 18th birthday. He completed jump training at Fort Benning, Georgia where he received his wings on December 24th, 1943. He then took additional training at Camp MacKall, North Carolina and was shipped to England in May and arrived somewhere around June 1st, 1944.

He entered combat September 17th, 1944 and was killed in action, over Holland, on that date. He was 19 years old. On the day of the Market Garden drop (17 Sept, 1944), the 502nd PIR was flown to the Netherlands by the 89th squadron of the 438th Troop Carrier Group. Bill's stick was aboard plane number 764. He asked one of his buddies, Cpl John Altomare, to change positions with him on the plane, so that he could be in position number one. So before they departed, they asked the Lieutenant if it would be alright. He said it would be OK, if that's what they wanted to do.

Bill wanted to be in position number one because he was a machine gunner and had to carry the machine gun and heavy equipment. After the OK was given by the Lieutenant, Bill and his buddy then changed positions. When the plane was over Holland, Bill was standing in the doorway at position #1, ready to jump. German flak hit him in the head and he died instantly. The Troopers had to unhook him and moved him aside so they could jump, as the green light was on. After all the remaining Troopers were dropped, the plane returned to England with Bill's body onboard. He was buried in the Cambridge American Cemetery in Cambridge, England. He remains there to this day.

Bill was a member of I company of the 502nd Parachute Infantry Regiment.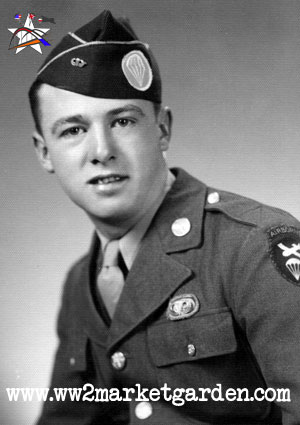 Story written in January 2011 by Bob Young, cousin of William A. Nesbit. All photographs on this page are courtesy to the Nesbit family.