© WW2 Market Garden - all rights reserved - disclaimer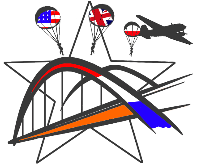 There are several (military) cemeteries in the Netherlands where casualties of Operation Market Garden are buried. There are Commonwealth war cemeteries at Bergen op Zoom, Nijmegen and Oosterbeek, a German military cemetery at Ysselsteyn and there is a U.S. war cemetery at Margraten. These are just a few examples of many WW2 grave sites spread out across the Netherlands.

The webmasters of WW2 Market Garden, Christian and Tom, are prepared to take pictures of a grave by request for veterans, family members, historians or people with an interest in WW2 history who are not able to travel to the Netherlands. Because we visit the cemeteries regularly throughout the year, we do not ask for compensation. Taking a picture of a grave is our service to you.

In addition to the grave photography we are able to lay flowers at a grave, place a wreath or a poppy cross. Just share your wish or idea with us and we'll see what we can do for you.

Feel free to contact us.

Since we were young we spent hour after hour on the battlefields of Operation Market Garden and we still activily research the actions that took place during September 1944. Many veterans, family members, organizations and authors have already found us in the past and we are willing to help you with your question(s), any question(s).

Our most popular service is photographic research. We've seen hundreds of photos of Operation Market Garden and read many books, (official) reports and eye witness accounts of the battle. Looking at pictures provides information to anyone researching a military operation. Sometimes it can be very difficult to identify what is displayed on a picture. Locations have changed over time or people are not familiar with the gear or equipment on a picture. We are happy to help you out. Please contact us and send us your picture.

Many authors and family members want to know where the action took place. Where did Operation Market Garden take place? Many of us know the main sites and locations, like the Nijmegen bridge, the Arnhem bridge, or the villages that were involved in the operation. But not everyone is familiar with the terrain where the battles took place. Most fights during Operation Market Garden have taken place in the countryside just outside the villages. Decades later the terrain changed drastically. If you are researching a certain battle and want to know what the battlefield looks like today or want to know what the key features were during the Operation, do not hesitate to contact us. We are able to tour the battlefields with you and show you the area of operations inside out, from Neerpelt (Belgium) all the way up to Arnhem.

Are you working on any other project about Operation Market Garden and you have a question. Just shoot us an email and we'll see what we can do for you. The possibilities are endless!

Feel free to contact us.
BATTLEFIELDTOURS, CONSULTANCY & RESEARCH

The services featured on this page are primarily for people who are unable to visit the Netherlands or who have no plans to visit the Netherlands. If you've planned a battlefield tour with us, the described services can be incorporated in the tour.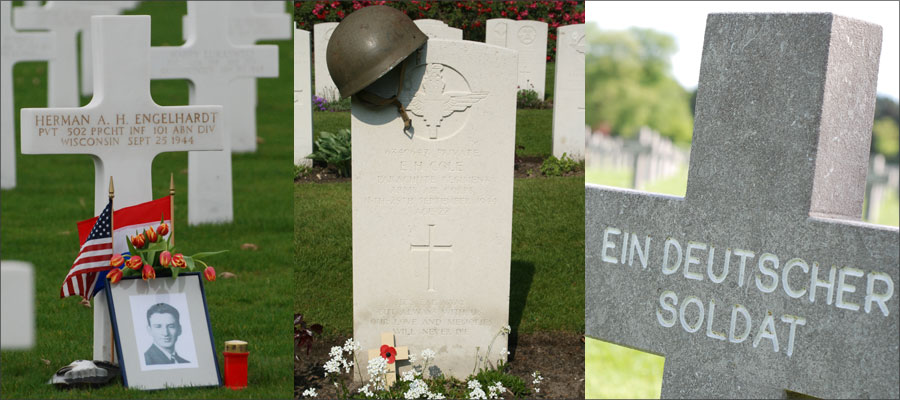 Photo: Some examples of grave photography. Left: picture taken for family members of Herman A.H. Engelhardt. Herman's grave is located at the U.S. War cemetery in Margraten. Middle: We reunited Ernest H. Cole, a soldier who fought and died at the Arnhem bridge, with his helmet 65 years after he lost it at the bridge. Ernest is buried at Oosterbeek war cemetery. Right: a German author was creating a small booklet about the German war cemetery Ysselsteyn. We shot several photographs to illustrate his booklet.

Photo: The webmasters telling the family of Joe E. Mann the story of their uncle. The family visited the Netherlands for the 70th commemoration of Operation Market Garden. We were able to tell them the complete story of the Battle at Best and the actions of Joe E. Mann aided by vintage aerial pictures and photographs. The first time they heard the full story close to the location where Joe Mann died on 19 September 1944.

Photo: Left: Friend of the webmasters: local historian Erwin Janssen, author Ian Gardner and the webmaster talking WW2 history. We've helped Ian extensively during his research for his Operation Market Garden related book: "Deliver us from Darkness". On site research is sometimes on the only way to really understand a battle. Right: the webmasters have helped Peter Hendrikx with photo research for the book and provided him with vintage WW2 photos. "Orange is the color of the day" is THE best book for photos of the 101st Airborne Division during Operation Market Garden.

Exhibitions are a great way to let the general public get in touch with the topic: Operation Market Garden. Telling the stories of soldiers and civilians during Operation Market Garden by pictures, text and items is a great way to teach people about the operation. If you like to have an "Operation Market Garden" exhibition or an exhibition about a battle of the operation, do not hesitate to contact us.
This service is available for anyone who wants to have an exhibition in the area where Market Garden took place.


For schools and historical societies it can be very interesting to learn more about Operation Market Garden. We are more than willing to give a lecture or presentation about Operation Market Garden or one of the specific battles. For information feel free to contact us.


Photo: Liberation Route Europe and the municipality of Best were working on a new project; a new listening post with information about "the Battle at Best". WW2 Market Garden helped both parties with information to create the best possible story.