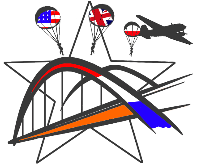 © WW2 Market Garden - all rights reserved - disclaimer
Sgt. Robert M. Murphy
505th Parachute Infantry Regiment - 82nd Airborne Division
Robert 'Bob' M. Murphy (ASN 11090385)was born on July 7 1925 as a son of Joseph and Anna Murphy. He joined the army on October 1 1942 at the age of 17 from Massachusetts. Officially it was only possible to join the army under 18 if you have permission of your parents. Bob didn't have the permission but really wanted to join the military. He forged his birth certificate and the army accepted him. He volunteered for the paratroopers in 1942 and started his training at Fort Benning, Georgia. He earned his wings and was asssigned to company A of the 505th Parachute Infantry Regiment. Still at the age of 17 he landed at May 10, 1943 in Casablanca, Africa with the 82nd Airborne Division. He missed the Sicily jump because of a severe case of malaria. He jumped at October 1 1943 with the 505th PIR at Paestum, Salerno. After the Salerno jump Bob volunteered for Pathfinder school. He was part of the first official school of pathfinders at Conise, Sicily in November 1943. After completing Pathfinder school he left Italy and went to Ireland and then England.

On June 6 1944 Bob jumped as a pathfinder/radio-operator in Normandy, France. After his pathfinder duties he rejoined A-505 PIR and was involved in the battle at La Fiere bridge and causeway. On September 17, 1944 Bob jumped at Groesbeek, the Netherlands for Operation Market Garden. He was involved in the heavy fighting at Mook and Plasmolen and the Nijmegen Bridge. He was wounded in action during Market Garden. When the Germans bashed through the Ardennes and the 82nd Airborne Division was sent to the Ardennes to stop the Germans, Bob went AWOL (away without leave) from the hospital to join his brothers in arms. He met up with his buddies at Werbomont. During the Battle of the Bulge he suffered a relapse of malaria. Among the medals Bob earned are 3 Purple Hearts and the Bronze Star. After the war he finished High-School and attended Law School. He has a very succesfull carreer as a lawyer. Bob passed away October 3rd, 2008.

Bob Murphy wrote a book about the actions of the 82nd Airborne Division in the Sainte-Mère-Église - Chef-du-pont perimeter. The book is titled: 'No better place to die'. In the book, Bob recounts the actions around the La Fiere bridge, where the 82nd Airborne Division saw its toughest battle in the Normandy campaign. Many first person testimonies and eye witness accounts are featured in the book. A must read!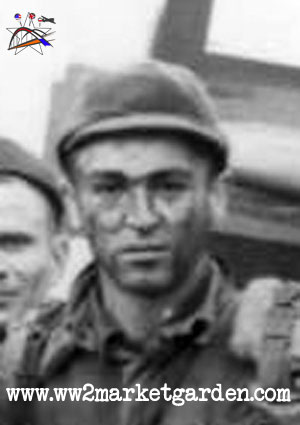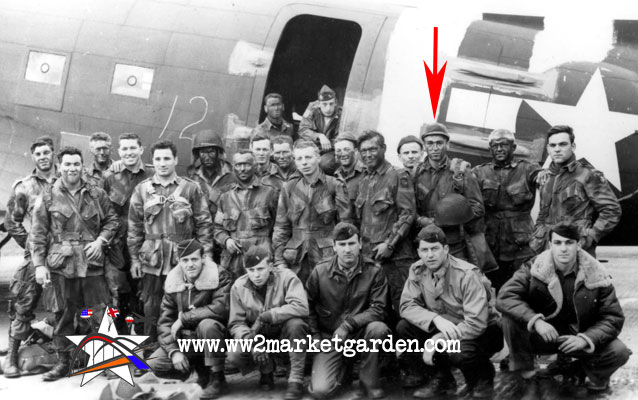 Photo: Pathfinders for the D-day mission for the 505th Parachute Infantry Regiment, 82nd Airborne Division. Charles Burghduff is pictured in the door of the plane.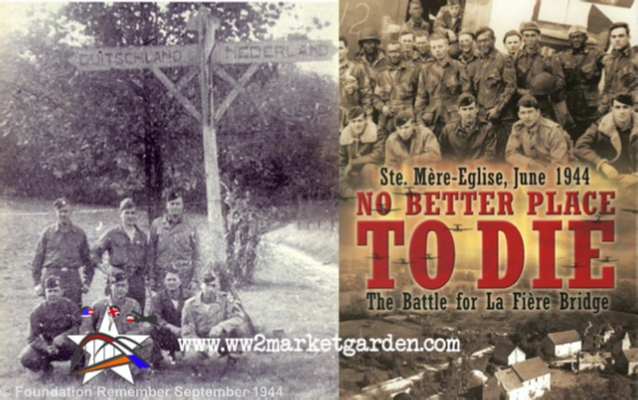 Photo: Bob and his buddies at the Devils Hill in Berg en Dal the Netherlands at the end of the Market Garden campaign (left). Bob's book cover: "No better place to die"