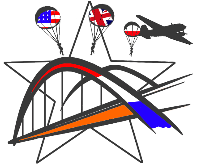 © WW2 Market Garden - all rights reserved - disclaimer
MARKET GARDEN - THE PLAN

Operation Market Garden took place from September 17 until September 26. Goal of the operation was to push through German lines from the Belgian city of Neerpelt towards the Dutch city of Arnhem. Hereby crossing some major canals and rivers that held back the allied armies and bypassing the German Siegfriedline. Once the allied armies reached Arnhem, they would be over the river Rhine, their last natural obstacle. Once over the Rhine the allied armies would sweep East into Germany, thereby knocking out the German industrial heart in the Ruhr pocket and break the German war effort. This would end the war before Christmas.


Targets:
The 101st Airborne Division had to secure bridges over the river Dommel in Eindhoven, bridges over the Wilhelmina canal in Son and Best and bridges over the Zuid-Willemsvaart and river AA in Veghel.
The 82nd Airborne Division had to secure a bridge over the river Maas in Grave, four bridges over the Maas-Waal canal and the road and railroad bridge over the river Waal in Nijmegen.

The 1st Airborne Division had to secure bridges over the river Rhine at Arnhem, a road bridge, pontoon bridge and a railway bridge (and a ferry crossing).

XXX-Corps would drive from Neerpelt towards Arnhem and from there on to the north to the area called 'de Veluwe' just north of Arnhem and create a bridgehead.
VIII & XII-Corps was used to protect the flanks of XXX-Corps, pushing the Germans away from the main assault.

When the bridgehead in 'de Veluwe' (the area in between Arnhem and the Ijsselmeer) was created, the positions would be consolidated. From these positions a combined attack towards the east would be organised, straight into the German industrial heart, thereby breaking the German war effort.
Read more about the units involved in Operation Market Garden and learn what they did day by day. Click on the links below: